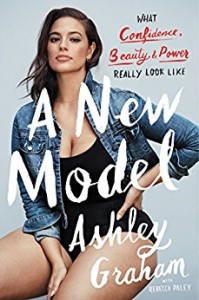 "A New Model: What Confidence, Beauty, and Power Really Look Like" by Ashley Graham debuted this week with a national publicity tour and rave reviews.  As the voice of the body positive movement, Ms. Graham has expanded her modeling career to include television appearances and becoming a clothing designer and entrepreneur to prove that curvy girls can do it, too!
Since there are more curvy girls and women than stereotypical runway models, publishing this book is another step forward to ending body shaming forever.  As the Barnes & Noble's review of "A New Model" says,
"A woman who proves that when it comes to beauty, size is just a number, she is the voice for the body positivity movement today and a role model for all women—no matter their individual body type, shape, or weight."
A model since aged 13, Ms. Graham almost abandoned her career at age 18, when her mother told her, "It doesn't matter what you think about your body, because your body is supposed to change somebody's life."  A decade later, she affirmed her mother's sage advice in an interview in the current issue of VOGUE magazine,
"I've used my body as a tool to talk about taboo subjects, such as cellulite or being insecure about lower belly fat—and also [how to] talk life into your body and have an affirmation kind of conversation with yourself. "

You, too, are a champion for Body Confidence through your use of the Body Knowledge System ®.   To find out how, contact Stephanie Wood.

Share Tags: stop body shaming