I got a beautiful dog a few months ago. His name is Copper and he's pure bred Akita.  He's a wonderful companion and I'm so glad that we decided to get him.  Copper's got a routine.  In the morning, he wants his food . . . and he wants it first thing.  And guess what?  He gets his food, every single morning.  His body knows what he needs and I make sure that he gets it.
However – I've found that women don't treat themselves as well as they take care of their animals' needs and desires.
I mean, think about it . . . how many times have you missed your own breakfast?  Animals have daily routines.  They know what their bodies need, and they act accordingly.  Somewhere along the way, we've stopped paying attention to our own bodies.  For example:
How many times have you been sitting at your desk, working away, while your body screams:  "Take a break! Walk around!  Use the restroom!  Get a snack!"
Again, our bodies know what we need.  But we've taught ourselves to ignore our bodies and thereby, create unhealthy routines.
My dog – Copper – knows what he needs.  But he needs me, his owner, to help him implement.  He can't the open door to let himself out and he can't drive to the store to get more food when we run out.  He needs me for that.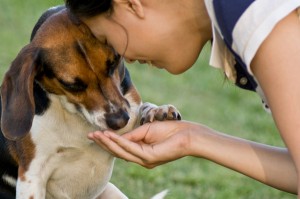 In the same way, you need someone who will help you learn how to listen to your body once again . . . and not just listen, but ACT on what you're hearing.  You need a partnership with a coach.
That's where I come in!  For 20 years, I've helped women learn to listen to their bodies…to give them what they need… oh, and lose weight in the process (if appropriate).
If you're interested in partnering with me, send me an email today.  We'll schedule a free 20 minute consultation and go from there!
Isn't it time you learn to live a dog's life?
Share Tags: Body Relationship